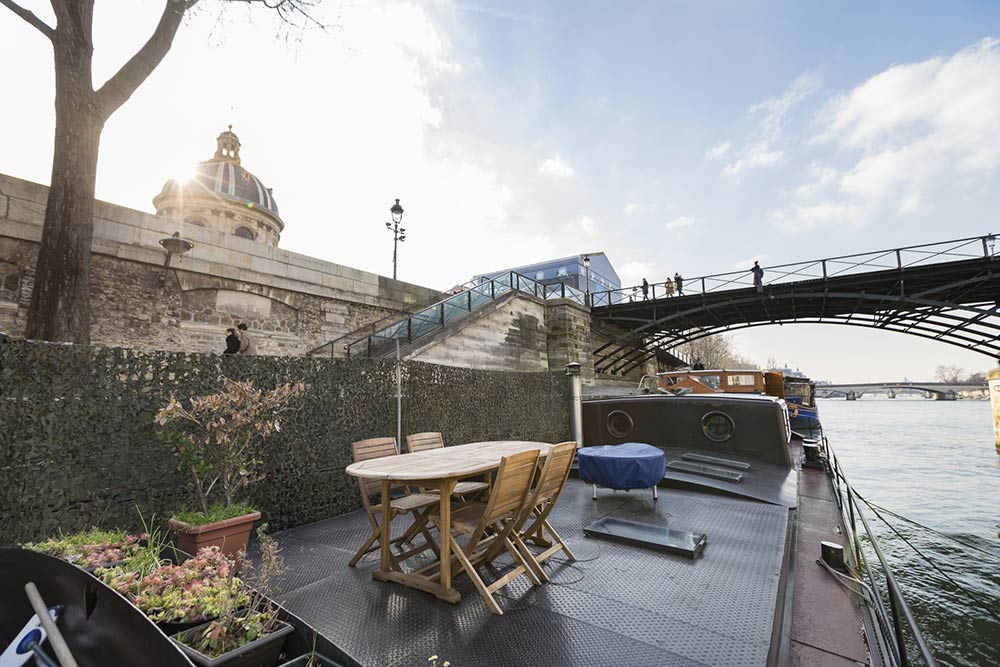 Houseboat with a view of the Louvre seeks new owner
A rich history and an exceptional location.
VIDEO - This floating home is in a prime location near the tip of the Ile de la Cité, between the Louvre museum, the Pont des Arts bridge and the Académie française. Price displayed: €1 million.
This floating home combines a rich history and an exceptional location. Affectionately known as Monique, this 39m-long houseboat was built in 1923 at a German shipyard. It was handed over to France as compensation for war damage and continued to fulfil its original purpose as a freight transporter until 1974. After this date it tied up its mooring ropes at quai de Conti (Paris' 4th arrondissement ) between the Académie française, Pont des Arts and the Louvre.

Since then, Monique has been transformed into a spacious 178 sq.m home. Indeed, it is partitioned into two apartments: one family unit with three bedrooms, an open kitchen and a study, spanning 130 sq.m, and a 48 sq.m apartment with a lounge, open kitchen, bedroom and shower room. The latter is situated on the boat's prow, and can be made entirely independent thanks to its separate entrance. Five years after undergoing full renovation, the houseboat is listed for sale with the Barnes real estate network, at the round price of €1 million.
Interested in this property? Contact the real estate agent selling this luxury property!
© Le Figaro Immobilier - published on Barnes Paris on 23/09/2019
Read this article in its integrality by clicking on the following link:
https://immobilier.lefigaro.fr/article/peniche-avec-vue-sur-le-louvre-cherc...